2 years of Covid 19 Pandemic
It has been exactly 2 years since the Covid-19 pandemic hit us. It impacted every human being on Earth, from the rich to the poor, working-class to businesses, SMEs to large corporates, and conglomerates. No one was spared! It disrupted the way we live, study, and work.
We all hoped 2021 would bring closure to this pandemic. However, we are in 2022, and still, the threat of Covid-19 is not over. The new year saw humanity face a new variant in the form of Omicron, a far more infectious variant of Covid-19 but a less dangerous one as suggested by experts and medical scientists. Having said that, the threat still exists in parallel with the dangerous Delta variant of Covid-19.
We have been able to fight this pandemic, thanks to the immense mobilization of medical manufacturing, supply chains, and manpower not just in the U.S. but throughout the world. Every major country has achieved its vaccination targets and helped other countries to do the same.
Challenges this pandemic has posed to Medical Manufacturing Industry
When the pandemic first-hit way back in 2020, it caught the entire medical manufacturing industry off-guard. It took a while before the world understood the enormity of the virus, and take the necessary steps to fight it first and then control it. For medical manufacturers, the list of products to be manufactured was immense, RT-PCR Kits, PPE kits, face masks, sanitization equipment, sanitizers, ventilators, beds, bio-disposable kits, face shields, vaccine syringes, lab equipment, screening equipment, oximeters, surgical gloves, air-filters, and purifiers, etc.
A lot of countries weren't prepared and didn't have the means to manufacture these products on a large scale. They either had to import these from other countries that were already manufacturing or had the means to manufacture them. To tackle this, the U.S government invoked the Defense Production Act and directed major automobile makers such as GM and Ford to transform their assembly lines and manufacture medical products in collaboration with medical manufacturers.
At the end of 2021, the situation has somehow 'normalized' for medical manufacturers, but they are prepared for consecutive waves of Covid-19 as new variants emerge and threaten humanity. However, they still face a lot of challenges as stated below.
Increase in demand
Manpower Shortage
Supply chain hurdles
Inventory issues
Assembly-line modification and retooling
Quality Compliance issues
Cost control
Increase in Demand
Two years into the pandemic and repeated waves arising out of new variants have fuelled huge demand for critical medicines, vaccines, medical equipment, and medical clothing for frontline workers and citizens in general. Manufacturers across the U.S are still struggling to scale up the production of these products resulting in an increase in imports and outsourcing to other countries owing to spiraling costs and manpower shortage.
Shortage of Manpower
The existing manpower capacity is simply not enough to meet the humongous demand. In addition, the pandemic has had an adverse effect on people in terms of loss of life, post-covid health effects, lay-offs, and resignations. Manufacturing enterprises are falling short of skilled and semi-skilled personnel as they aren't able to fill in the vacancies that are vital to boost production.
Supply Chain Challenges
The medical supply chain runs long, right from the manufacturers to vendors to purchasers to warehousing to distribution and to providers as given in the below image.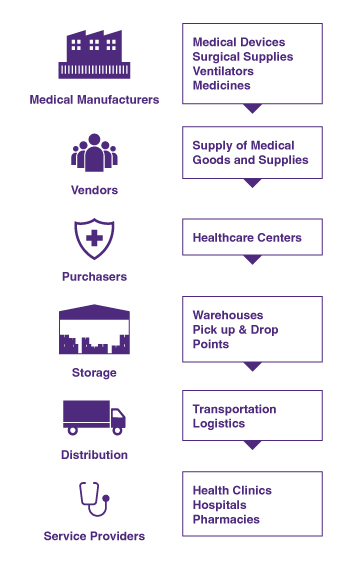 Due to repeated waves, many countries are still resorting to restriction measures that hamper 100% production and goods movement to other countries and continents. In addition, manufacturers are facing raw material shortages and logistic issues due to geopolitical problems that are existing in various regions.
This is breaking down the resilience of the global supply chain leading to shortages and delayed response to the pandemic. Manufacturers are resorting to local procurement often at high costs. The side-effect of this is that goods are becoming costly to procure, manufacture and sell. The entire supply chain is paying an inflated price where the end-consumers pay the highest.
Inventory Issues
The supply chain issues, in turn, lead to manufacturers stocking up excess inventory procured from their suppliers. Manufacturers have to pay more to procure, store and maintain this inventory, thereby adding to their overhead costs. The excess inventory procurement creates a false shortage in the market thereby pushing the market prices up.
Assembly-line modification and retooling
As mentioned earlier, many manufacturers had to modify their assembly lines to manufacture critical healthcare products. This isn't easy and requires a lot of time, manpower, and effort to do so.
Manufacturers have to re-write their processes and develop product info such as BOMs, concept drawings, detailed production drawings, process designs, etc. that are compliant with standards set by the regulatory body. They would need to manufacture prototypes, test them and send the validated data to the regulatory body for their approval. It takes several attempts and failures before arriving at the exact product that meets the standards and is deemed fit to use by consumers. Once approved, manufacturers have to retool their machines, fixtures, and equipment which would take weeks or months.
Quality Compliance issues
Every Covid-19 variant brings new challenges for manufacturers and along with the government, they try to mitigate it by tweaking or introducing new products into the market. Before the final product successfully makes it, it goes through countless failures and rejections by the regulatory bodies due to compliance issues. Most of them don't meet the required medical standards or are simply not suitable for covid-19 treatment leading to rejections by the medical authority.
Cost control
All of the above factors lead to a single challenge i.e. cost control. Manufacturers are spending more due to supply chain disruptions, inventory up-stocking, manpower shortages, retooling, and assembly-line modifications, etc. All this, to be relevant in the market and sustain themselves. At the same time, they face the challenge of controlling costs and meeting required demands.
Conclusion
In this wave of uncertainty, manufacturers are looking to manufacture and supply goods quickly, securely, and at lower costs. They must monitor the market, take quick data-backed decisions, and swift actions to sustain operations and serve their consumers. At the same time, they should ensure job security to their staff who are vulnerable at this point in time.
A robust and flexible ERP software will help them tide this crisis. In our next blog, we will tell you how as a medical manufacturer, you can drive enterprise growth and remain profitable in these uncertain times with ERP software.